TWENTY YEARS IN THE MAKING
"Johnny, we were always best of friends" – CHoirboys
On a building site somewhere, sometime in 1994, Jim got the idea to assemble a band for one gig to celebrate his birthday. Now more than two decades later, that band has evolved into a tight Aussie pub rock band called The Noisy Johnnies. For the past 22 years, the same five-piece line up has entertained punters of all ages at parties and corporate functions in all sorts of venues. From suburban pubs and bars, to tennis courts and squash courts, to backyards and back rooms, to farms and schools on the back of a truck, all the way to top city venues like the Regent Theatre, Hilton Hotel, Crown Palladium Room and the Parliament House Gardens.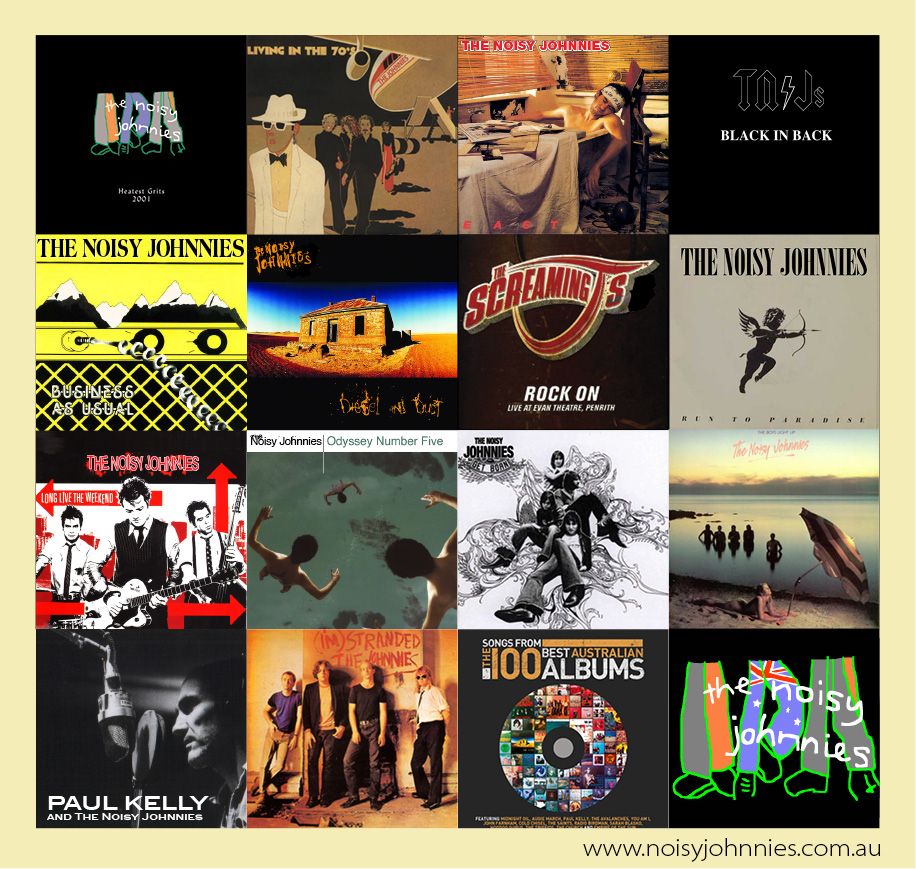 Australian ROCK
THE best album covers
We only play Aussie rock and that makes us unique. We pay tribute to the Aussie pub rock genre but our song choice is not too predictable. We do original arrangements as well as covers and our setlist always contains Australian songs people love but they haven't heard for a while. The beat is great to dance to, our sound is bright and we are a tight outfit. We do it for love and we love what we do. People love us too because when they see us having so much fun, it is infectious. We are not Wannabes because if we'd wanted to, we Could-a-been. We are not Has-Beens because we are still doing it. We are Legends in our own lunchboxes and because nobody knows us, we are Never-Weres.
What our fans say
testimonials
Dying for some new tunes? Play On Entertainment helps you:
By a very big margin, the best live rock gig I've been to in many many years. Give up your day jobs! – Chris Lloyd
It was a FANTASTIC gig…..'i like the way you move' was done really well and funky town is always a favourite….please have another gig soon!!! – love georgie
The guys were professional and a delight to deal with. The music was fabulous – a real blast! and left the crowd wanting more. They will always be considered for any function I organise in the future.- Michelle Paine, Resource Manager, Independent Systems Integrators Pty Ltd
The Noisy Johnnies could do no wrong at the AMI Awards for Excellence Dinner. Fantastic vocals backed by this very competent group of musicians was an absolute highlight of our marketing conference. – Lin Windram, Executive Office, Australian Marketing Institute
I think that you guys just get better and better and I hope in another lifetime I come back as a singer in a band too. – Kath Milne, Wesley College Clunes